New name, new team for our WG
New name, new team for our WG
During the last ISPRS meeting in Prague, there was a restructuring of the Commissions and Working Groups. Below you will find a summary of the changes:
Name change: Our commission (Spatial Information Science) is now Commission IV, and our working groups is WG IV/9. We also modified the name of the WG slightly, and now we are called "Geovisualization, Augmented and Virtual Reality".
Team change: We also have some changes in our team. Our past co-chair Dr. Bo Wu decided to step down from the executive committee but remains an active member. We are thankful for Bo's executive contributions for the last two terms. For the new term, we warmly welcome Dr. Sidonie Christophe of IGN, who is also a co-chair at the ICA commission on Cognitive Visualization. We are looking forward to collaborating more on cognitive and human centered issues. Furthermore, myself and Dr. Chris Pettit have swapped hats (chair <–> co-chair) and I will chair the group for the next four years, while Chris remains actively involved as a co-chair in our executive team. Victoria also continues for another term in her role in our executive team. We are excited to build a community around the topics of (human-centered) geovisualization, augmented and virtual reality. If you wish to collaborate with us, please become a member, and if you wish to organize activities (workshops, special issues and such) under our WG's umbrella, please drop as an email and we'll have a conversation. You will find our 'terms of reference' below the image.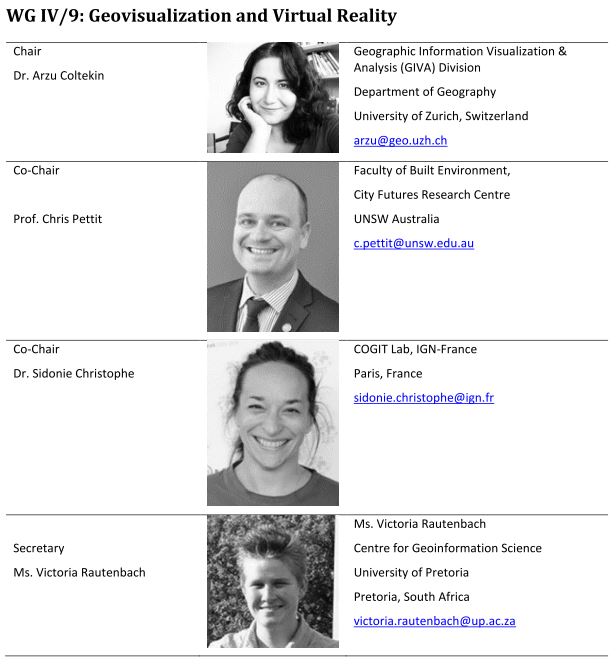 Terms of reference
Enhanced communication of geographic information and knowledge
Geovisual analytics for (small and) big data exploration
Usability testing and empirical experiments related to spatial cognition and visualization
Geographic visualization of multi-dimensional data
Novel methods and tools for exploring and visualizing geographic decision spaces
Platforms supporting geographical visualization including the web and mobile devices
Geographic visualization of crowd sourced, social media, and government databases
Development, application and evaluations of immersive and semi-immersive virtual reality visualization environments
Virtual and augmented reality representations of space, place and time
More will follow soon!